Carrera wK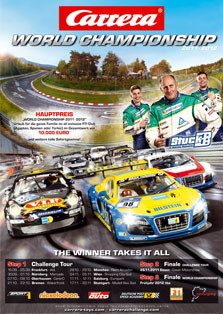 De Challenge tour 2011 is alweer begonnen. De Challenge tour voorrondes in zowel Europa als de VS zijn de opstap naar het Carrera Wereldkampioenschap 2012 tijdens de finale tijdens de Motorshow, 26 november te Essen.
Ook in Nederland werden er voorrondes gehouden. Zo was er tijdens de Trophy of the Dunes, zaterdag 3 en zondag 4 september op het circuit van Zandvoort een mogelijkheid je te kwalificeren op weg naar de Carrera wereldkampioenschaps titel 2012.
Op de officiele wedstrijd Carrera baan te Zandvoort was na twee dagen racen K. Teijken de snelste over de tien ronden.
Top 3 tijden
1. Kaijleigh Teijken 103.156 seconden
2. Wino Gerritsen 108.841 seconden
3. Pepijn Eshuis 109.232 seconden