Kids Pitstop on tour
De Kids Pitstop komt naar je toe. We verzorgen de volledige op-en afbouw van onze D132 racebaan. We hebben dus ook tafels waarop de racebaan komt te liggen. Het enige wat we nodig hebben is wat ruimte om de baan op te bouwen. Natuurlijk zijn we aanwezig voor uitleg of competitie begeleiding indien gewenst.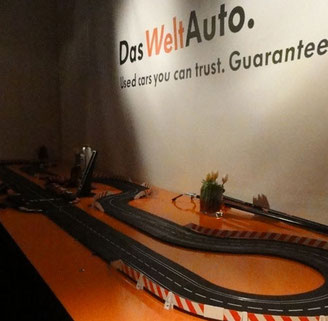 Op deze 10+ meter lange digitale baan kan met zes auto's tegelijk worden geraced. Wissel van baanhelft door middel van een druk op de knop en probeer je tegenstanders in te halen of voor te blijven. De baan is volledig ingericht met auto's, rondeteller, tijdopname en benodigde transformator en bekabeling. Indien gewenst kunnen extra digitale functies worden toegevoegd, beleef de pret van echt racen.
Geschikt voor het kleine en grote bedrijfsfeest, een feestavond of bijvoorbeeld exclusief verjaardagsfeest.
Prijs op aanvraag.